How to Save View Settings
Ever wonder if there is a way to have eCognition open with just the windows you like in the place you like? If so, then this tip is just right for you!
As you know, eCognition is a flexible software. This flexibility also includes the individual windows and their placement. In the upper-right corner of each window, you will see 3 symbols allowing you to minimize, remove and hide them. In addition, you can adjust the width and height to best fit your needs. Once you have adjusted the size and position of your windows, you can save the settings:
Go to the View menu > Save Current View.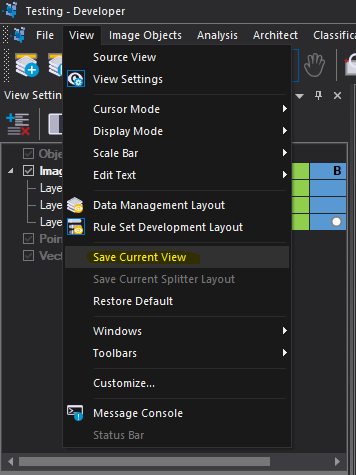 Now when you re-open Developer, all the windows will be set just the way you like them and you can get to work faster. Note if you would like to change the saved view settings, simply make your changes and re-save via Save Current View.
Was this article helpful?
Your Answer
Articles in this section